Today I bring you these very beautiful ideas to decorate the windows of your house with very nice Christmas decorations, classics and other more contemporary, but always based on colored spheres, green garlands and red poinsettias that should never be missing, so I invite you to See these beautiful Christmas ideas to find out how to make them in an easy, eye-catching, innovative and creative way.
1- Bulbs and snowflakes: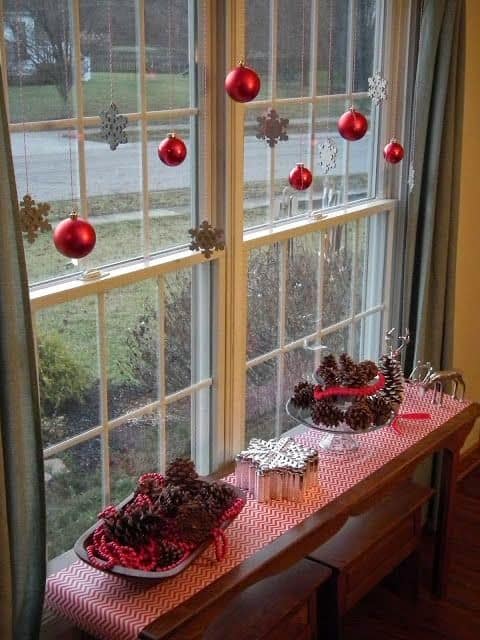 A very simple but beautiful decoration at the same time because it has the most striking color of Christmas. To do this, you need to hang some red pearl balls and some snowflakes of different lengths on the window, tie a nylon thread or a ribbon with diamonds to the curtain rod to be recursive and at the bottom if you have a small table, decorate it with a patterned tablecloth and place two baskets full of red pearls and pinecones with a reindeer, snowflake, or other doll in the center.
2- Pine trees, bulbs and garlands: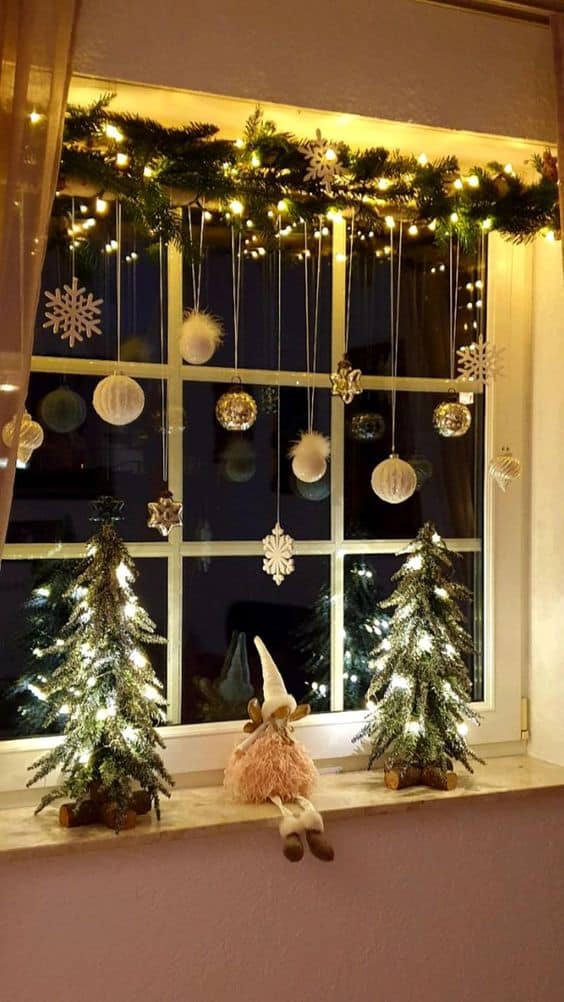 A great idea if you want your window to look magical as it has elegant decorations that give that part of the house a plus with a warm touch as it has yellow and white lights, choose two small pine trees to place at each end and put in a reindeer, a seated elf or a santa in the middle, on the top stick a garland wrapped with lights and hang various decorations such as spheres, snowflakes, stars and jingle bells, i recommend you play with the length of each to add more style to the window.
3- Window decoration outside: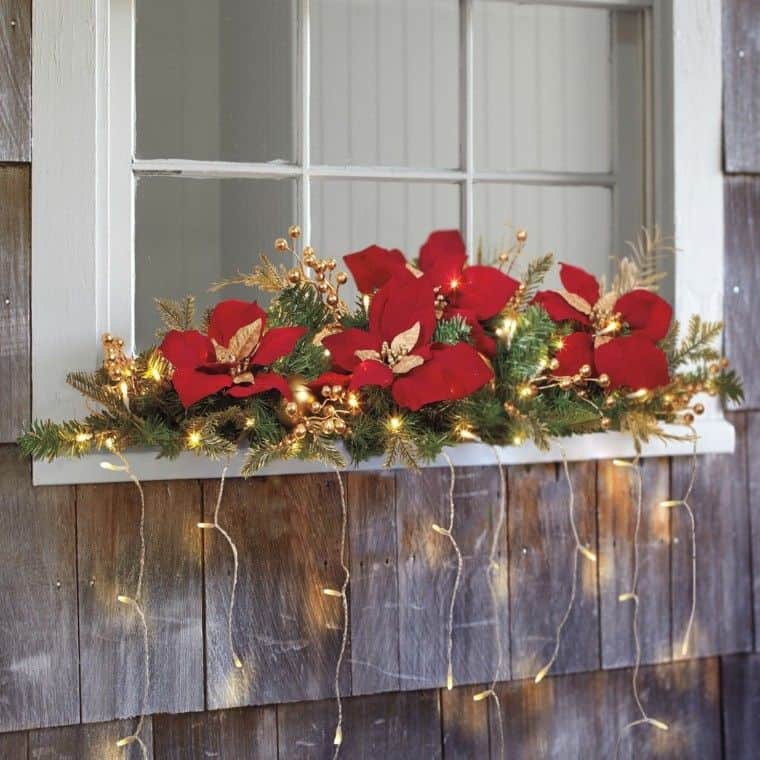 Remember that this is the most perfect corner to star in an impressive Christmas decoration, best of all you can decorate them on the outside or inside. Place several branches outside the window with gold and red details like the poinsettias commonly used on these dates, and distribute them very well in the space you have, fruits, seeds and pineapple, along with vertical yellow lights that form a waterfall of the mini balcony.
4- Bows, Crowns and Garlands: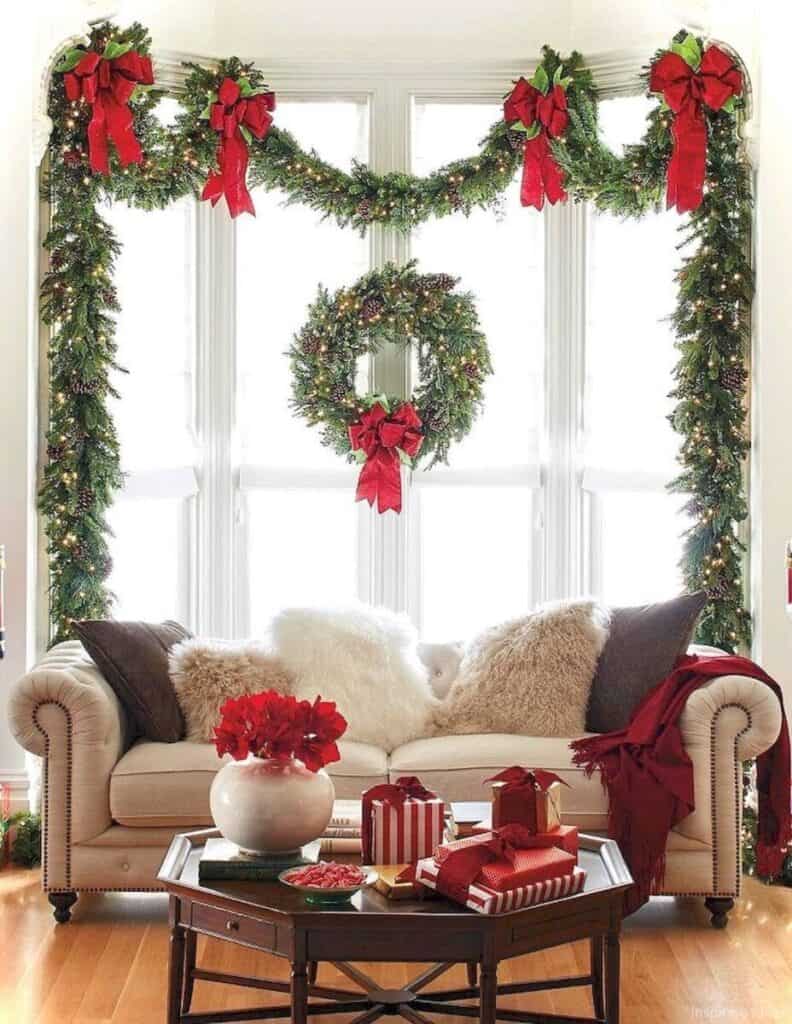 If you have windows in the living room or in your living room, consider decorating them with bows, crowns, lights and garlands as this is one place that draws a lot of attention from visitors. Place the garlands in the form of a curtain to make it look more elegant as in this picture and place a crown in the whole center of the window, put bows in each collection made with thick red ribbons to give it more detail and don't forget the yellow lights or white that shine at night.
5- Easter flowers, garlands and bulbs: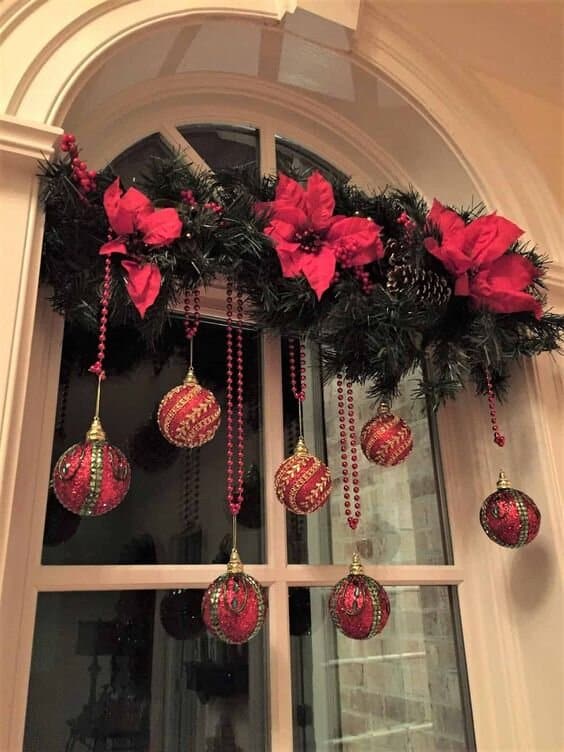 A style similar to the previous point that gives elegance to the window. Use a garland to place it horizontally at the top of the window, from there decorate with three well-spaced poinsettias, pineapples and hang the red orbs that preferably have details, with pearls or thin ribbon. It is optional to place coiled white or yellow lights on the branches if you wish.
6- Caramel chocolate: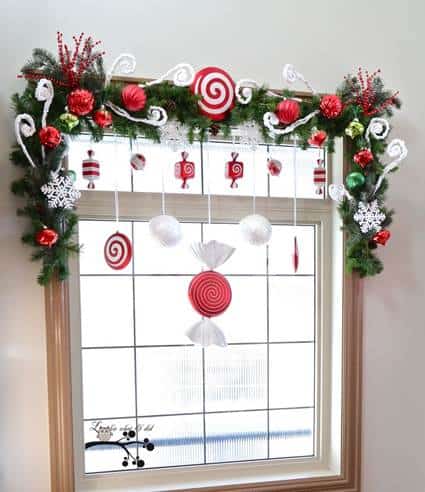 A very sweet design in your window that will bring life to your home, to begin with you need to take a green garland and shape the window frame, you can go to the end or leave it in the middle as you see in this picture, when Once you have the branches in place, start putting in the details by placing them with style, in this case candy canes, lollipops, sticks, snowflakes and even red fruits or seeds.
7- Christmas lights garlands: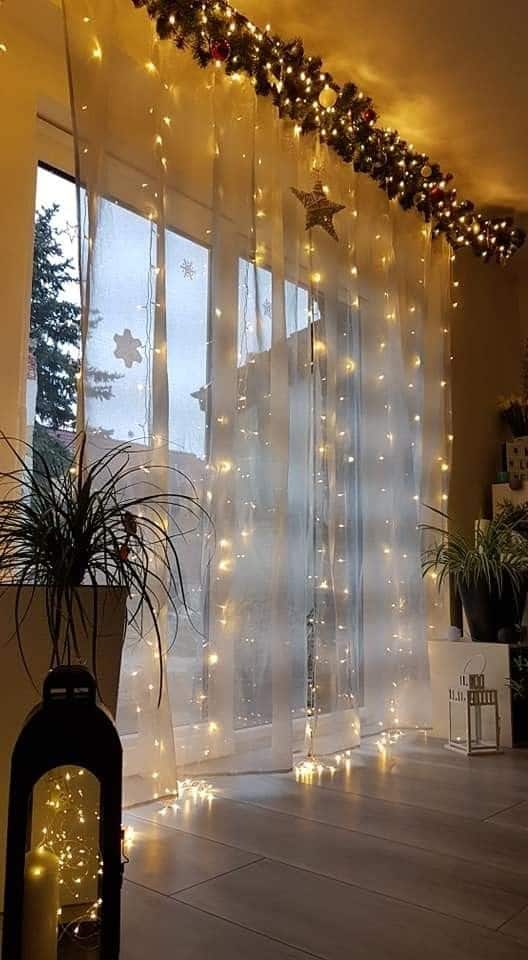 If you have such a large window, you should at least decorate it, here it is adopted for a very natural proposal in accordance with Christmas with a green garland placed from left to right, stretched horizontally along the window in the part of coiled with white or yellow lights and decorated with various details such as fruit, pineapple or small spheres, from this discharge other lights but ending vertically with a star hanging in the center.